Successful Failures: Thirty Years of Lumpens, Radical Media and Building Communities of the Future
October 16, 2021—February 6, 2022
Chicago Cultural Center, Michigan Avenue Galleries, 1st Floor East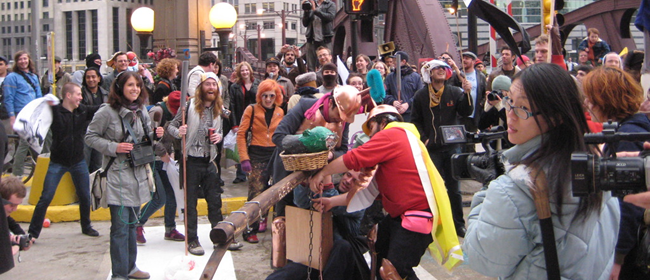 (click on image to enlarge)
In Chicago, we can make and do anything we want, when we try. Through the certainty of chance, collective engagement, casual encounters, and accidental actions, The Lumpen Times, an underground magazine, became the hub for a series of cultural platforms spawning hundreds of projects, spaces, happenings, exhibitions, and initiatives.
Collaborators from all walks of life built platforms including cultural sites, publications, mutual aid networks, and entrepreneurial spaces. These projects were often short-lived, but as each receded, inevitably it fueled a new one in its wake. Our collective success through repeated failure is explored in this exhibition.
Here, Chicago Cultural Center galleries are transformed into a catalog of strategies, highlighting dozens of "case studies" demonstrating how artists, activists, educators, and creative entrepreneurs of all stripes have built community and culture in our beloved city. Each study includes the reason it started, examples of its production, and the reasons it failed, mutated, or continues to this day.
Successful Failures is a sampling of one broad ecosystem of businesses, art, and media projects. Through it, we invite you to contribute your own projects to our growing archive of successful failures.

---
Visit us:

Admission is FREE
Open Daily, 10am–5pm
Exhibitions close 15 minutes before the building closes
(Closed Holidays)
Find us:
Chicago Cultural Center
78 E. Washington St.
Chicago, IL 60602
Take CTA to Chicago Cultural Center
From the elevated lines: exit at Washington/Wabash and walk east.
From the subway: exit at Lake (Red Line) or Washington (Blue Line) and walk east.
Served by Michigan Avenue buses 3, 4, 19, 20, 26, 60, 66, 124, 143, 147, 151, 157 and Washington St. buses 4, J14, 20, 56, 66, 147