May 20–July 30, 2017
Chicago Cultural Center, Michigan Avenue Galleries, 1st Floor South
Chicago Cultural Center > Visual Art Program > Exhibitions > Past Exhibitions > Triptych Unloose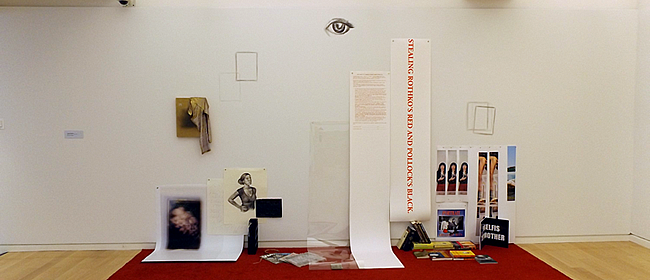 (click on image to enlarge)
This exhibition aims to expose the nature of the artistic process, the ecology of cultural production and to provide a glimpse into the labor of exhibition making. Curators Cecilia L. Vargas, and JGV/WAR (J. Gibran Villalobos and Wil Ruggiero) work with artists Rashayla Marie Brown, Paola Cabal and Jacob Yeung in a process based display of their work. The exhibition and programming is part of the 2017 Studio Artist and Curatorial Residency. Funded in part by the Joyce Foundation.
Public Programs
Science Fair

Saturday, June 10, 2–3pm
Discussion with artists from the exhibition Triptych Unloose. Paola Cabal, Jacob Yeung, and Rashayla Marie Brown RMB.
Doing the Most: Rashayla Marie Brown

Friday, June 16, 5–6pm; Friday, July 14, 5–6pm
Rashayla Marie Brown (RMB) performs Doing the Most. Drawing from her personal narratives and her return to a drawing practice, RMB performs sketches of her performative work.
Lab Reports
Saturdays, June 24, 2–3pm
In this report from the inside of the galleries, the exhibition curators will discuss the unnatural processes of the scientific methods and the collusion with artistic and creative practices.
Optics: Paola Cabal

Wednesday, July 5, 5–6pm
The artist Paola Cabal will present her work in the exhibition Triptych Unloose and report back on the culminating work from her DCASE residency.
Documentation: Chinatown + Jacob Yeung

Saturday, July 15, 2–3pm
Jacob will be in conversation with women from Chinatown, the subjects of his most recent bodies of work on view in the exhibition Triptych Unloose.

---
Visit us:

Admission is FREE
Monday–Friday, 10am–7pm
Saturday–Sunday, 10am–5pm
(Closed Holidays)
Find us:
Chicago Cultural Center
78 E. Washington St.
Chicago, IL 60602
Take CTA to Chicago Cultural Center
From the elevated lines: exit at Washington/Wabash and walk east.
From the subway: exit at Lake (Red Line) or Washington (Blue Line) and walk east.
Served by Michigan Avenue buses 3, 4, 19, 20, 26, 60, 66, 124, 143, 147, 151, 157 and Washington St. buses 4, J14, 20, 56, 66, 147