Tuned Mass: Jeff Carter, Faheem Majeed & Susan Giles
September 8, 2018—January 6, 2019

Chicago Cultural Center • Chicago Rooms, 2nd Floor North
Chicago Cultural Center > Visual Art Program > Exhibitions > Past Exhibitions > Tuned Mass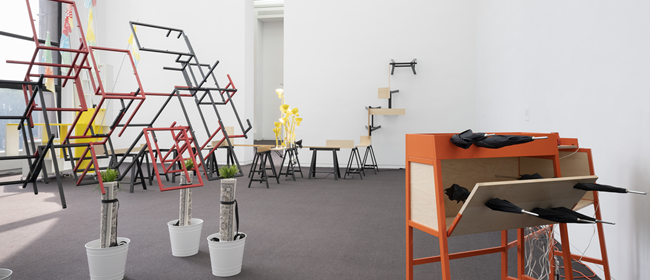 (click on image to enlarge, photo credit: James Prinz)
Exploring architecture through themes of barricade, convening and gesture come together in this sculptural exhibition presented in three suites. Jeff Carter works from images of specific conflict zones sourced online and developed a series of sculptures that explore the "architecture of the barricade". His interpretations rely on forms that express aggressive dynamics and raw utility, yet are carefully integrated and intentionally crafted.
"Board-up" and "Lean-to" are the latest evolution of Faheem Majeed's Shacks and Shanties installation series. These current works speak to his interest in the signs of devaluing neighborhoods, the board-up initially serving to protect the investment of the house while serving as a clear notice of abandonment. The lean-to is the stripped-down form of the shack, the simplest form used for shelter and survival.
Susan Giles explores the role of hand gestures in remembering monuments. Using the Chicago Cultural Center as inspiration, these sculptures examine how gestures create imagery that reveals the internal space of memory. The lines and shapes that come from the gestures build an abstracted, mediated form representing a single monument. The work investigates our shared desire to make memory physically tangible.
Preview
Preview of Exhibition
Friday, September 7, 6–8pm
Chicago Rooms, 2nd Floor North
Gallery Talks
Greg Lunceford on Cultural Center Exhibitions
Thursday, September 20 & December 20, 12:15pm
Chicago Rooms, 2nd Floor North
Performance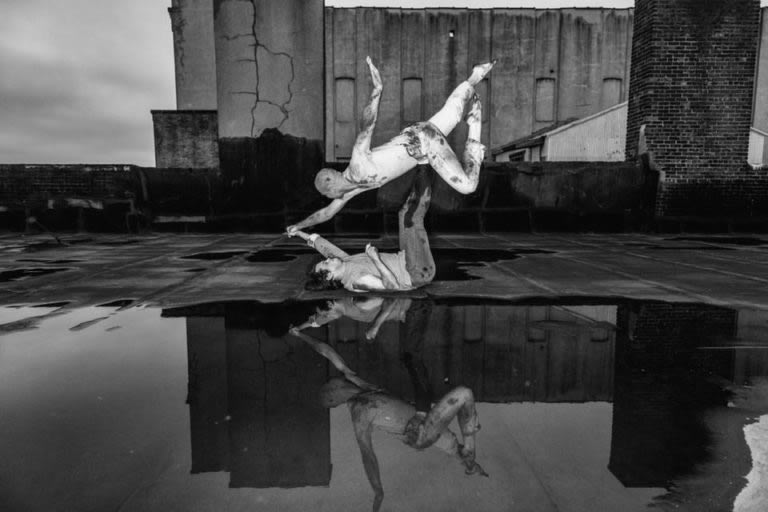 Matty Davis and Ben Gould
Carriage
Friday, September 28, 7pm
Chicago Rooms, 2nd Floor North
Carriage is a site-responsive performance created by Matty Davis and Ben Gould that radically explores control and empathy, motored in part by the raw energy of Gould's Tourette Syndrome. This performance is informed by evolving senses of the body injury, trauma, healing, and growth and offers a unique opportunity to create a work that draws from the variance of Davis and Gould's distinct physicalities. The result is an intense, viscerally and sonically charged experience, where empathy is a physical tool, resistance offers stability, and we are all cast out into a space that levels us, brings us real fear, awakening, new vocabularies and physical structures.
ROOMS Performs a Trio of Simultaneous
Programs: "Hymn of Chance," "Toll of Eyes" and "Beseech"
Saturday, November 3, 7–9pm
Chicago Cultural Center, Chicago Rooms, 2nd Floor North
In the context of the current exhibition Tuned Mass, ROOMS explore variation through a creation of systems that use repetition, endurance and chance operation to create three performances happening simultaneous in the galleries: "Hymn of Chance," "Toll of Eyes" and "Beseech."

---
Visit us:

Admission is FREE
Monday–Friday, 10am–7pm
Saturday–Sunday, 10am–5pm
(Closed Holidays)
Find us:
Chicago Cultural Center
78 E. Washington St.
Chicago, IL 60602
Take CTA to Chicago Cultural Center
From the elevated lines: exit at Washington/Wabash and walk east.
From the subway: exit at Lake (Red Line) or Washington (Blue Line) and walk east.
Served by Michigan Avenue buses 3, 4, 19, 20, 26, 60, 66, 124, 143, 147, 151, 157 and Washington St. buses 4, J14, 20, 56, 66, 147
Photo Gallery
(Photo credit: James Prinz Photography)