The Wall of Respect: Vestiges, Shards and the Legacy of Black Power
February 25–July 30, 2017
Chicago Cultural Center, Chicago Rooms, 2nd Foor North
Chicago Cultural Center > Visual Art Program > Exhibitions > Past Exhibitions > The Wall of Respect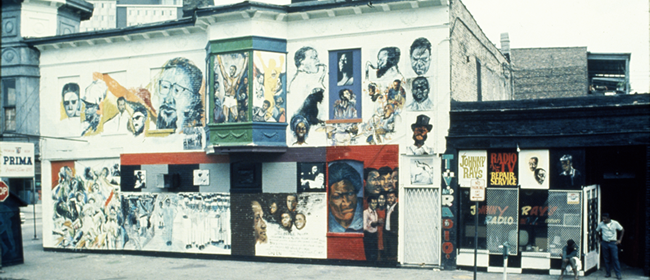 (click on image to enlarge)
Guest curated by Romi Crawford, Abdul Alkalimat and Rebecca Zorach, this exhibition chronicles how the the Organization of Black American Culture's Visual Artists Workshop designed and produced a seminal mural for and within Chicago's Black South Side communities. Featuring the images of leading black icons ranging from Sarah Vaughan and John Coltrane to Marcus Garvey and Ossie Davis, The Wall of Respect received national critical acclaim when it was unveiled in 1967 on the side of a building at 43rd St. and Langley Ave on the heels of the March on Washington, the assassination of Malcolm X and the emergence of Black Power. The Wall was ultimately painted over and virtually forgotten after damage by a fire in 1971, but its legacy has reemerged today as one of the most significant projects in Chicago's storied public art history. Part of the City of Chicago's Year of Public Art.
Public Programs
Roundtable Discussion with Curators and Artists
Saturday, February 25, 1–3:30pm
Part of the Chicago Cultural Center Exhibition Open House
Links of Respect

(Ongoing Project) February 25–July 30
The Links of Respect project will be an ongoing craft project to create a visual, cumulative work to demonstrate the community's idea of respect. Attendees of the exhibit will be able to write their personal definition of respect or an experience on a strip of paper. The paper strips then will be stapled into circles, the circles will then be looped together to form a paper chain, symbolically linking their ideas together.
Gathering Voices
Saturdays, April 1, 22 & May 6, 12–2pm
This will be an audio archive revolving around collecting stories about the Wall of Respect and the exhibit. Stories with a corresponding QR code (and potential photo) posted in the Chicago Rooms annex for visitors to scan and listen to interviews uploaded on SoundCloud. The recordings will be on-site interviews of a collection of visitors' opinions on the exhibition.
Running Bond
Saturday, April 29, 1–3pm
Thirty CPS students will be asked to document their daily life and experiences for one week/spring break (mid-April). We will invite the students to create the visual narratives of their routines and surroundings to serve as witnesses and documentarians of their neighborhoods and communities. Afterwards, we will gather and develop the images.
Then, we will curate a mini-exhibition, and reception arranging the photographs in a brick pattern in a corner of the Chicago Rooms annex.
Poetry Reading: Haki R. Madhubuti
Saturday, May 6, 1–2pm
Chicago Rooms, 2nd Floor North
Haki R. Madhubuti reads his poem written for the dedication of the Wall of Respect in 1967 as well as other selections that speak to justice, equality, and liberation for black people.
Dr. Madhubuti is a leading poet and one of the architects of the Black Arts Movement. Haki R. Madhubuti—publisher, editor and educator—has been a pivotal figure in the development of a strong Black literary tradition. He has published more than 31 books (some under his former name, Don L. Lee) and is one of the world's best-selling authors of poetry and non-fiction. His Black Men: Obsolete, Single, Dangerous? The African American Family in Transition (1990) has sold more than 1 million copies. Selected titles include: Don't Cry, Scream! (1969); Tough Notes: A Healing Call for Creating Exceptional Black Men (2002); Run Toward Fear (2004); YellowBlack: The First Twenty-One Years of a Poet's Life, A Memoir (2006); Liberation Narratives: New and Collected Poems 1966-2009 (2009); Honoring Genius: Gwendolyn Brooks: The Narrative of Craft, Art, Kindness and Justice (2011) and By Any Means Necessary, Malcolm X: Real, Not Reinvented (co-editor, 2012). Two book-length critical studies on Madhubuti's literary works are Malcolm X and the Poetics of Haki Madhubuti by Regina Jennings (2006) and Art of Work: The Art and Life of Haki R. Madhubuti by Lita Hooper (2007). His poetry and essays were published in more than 90 anthologies and journals from 1997 to 2016. Madhubuti's book, Taking Bullets: Terrorism and Black Life in Twenty-First Century America, was released Spring 2016.
Programming for this exhibition was part of a collaboration between DCASE and the School of the Art Institute of Chicago. Project coordinators include Sovannra Yos, Sarah Pollock, Chao Yan and Yidan Pang.

---
Visit us:

Admission is FREE
Monday–Friday, 10am–7pm
Saturday–Sunday, 10am–5pm
(Closed Holidays)
Find us:
Chicago Cultural Center
78 E. Washington St.
Chicago, IL 60602
Take CTA to Chicago Cultural Center
From the elevated lines: exit at Washington/Wabash and walk east.
From the subway: exit at Lake (Red Line) or Washington (Blue Line) and walk east.
Served by Michigan Avenue buses 3, 4, 19, 20, 26, 60, 66, 124, 143, 147, 151, 157 and Washington St. buses 4, J14, 20, 56, 66, 147