what flies but never lands?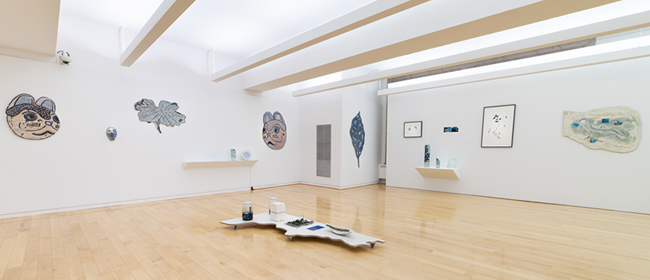 (click on image to enlarge)
what flies but never lands? presents works that, through their own logics and affects, resist the recollective slipstreams of the present. Staged in the Michigan Avenue galleries, what flies but never lands? is gently organized into three concepts, one for each room: swirl, light, and ground. Swirl proposes an imaging of history that, unlike a linear Western teleology of time, is embodied by the concentric, helical, and dual-directional form of the spiral. Light evokes the relationship between time and technology, namely the promise of technology as a font of modern progress and mastery over nature. Ground considers earthly materials as tools for record-keeping, and the mutability of these materials' associations over time.
Curated by Minh Nguyen, the exhibition features works by Ana Garcia Jacome, Cathy Hsiao, SaraNoa Mark, Jacobo Zambrano-Rangel, Huong Ngo, Max Guy, Imani Elizabeth Jackson and S*an D. Henry-Smith.
Support for what flies but never lands? has been provided by the City of Chicago Department of Cultural Affairs and Special Events, Illinois Arts Council, Graham Foundation, Foundation for Contemporary Art and Luminarts Foundation.

---
Visit us:

Admission is FREE
Open Daily, 10am–5pm
Exhibitions close 15 minutes before the building closes
(Closed Holidays)
Find us:
Chicago Cultural Center
78 E. Washington St.
Chicago, IL 60602
Take CTA to Chicago Cultural Center
From the elevated lines: exit at Washington/Wabash and walk east.
From the subway: exit at Lake (Red Line) or Washington (Blue Line) and walk east.
Served by Michigan Avenue buses 3, 4, 19, 20, 26, 60, 66, 124, 143, 147, 151, 157 and Washington St. buses 4, J14, 20, 56, 66, 147