Commercial Loading Zone Information
Commercial Loading Zones are being installed in the Central Business District. These new user-paid Commercial Loading Zones function much like the City's metered parking system but are specifically designed for the loading and unloading of commercial vehicles. They are intended to provide access for commercial deliveries, reduce double parking, improve traffic flow, and promote turnover in designated loading zones.
FAQs
How much does it cost to parking in a Commercial Loading Zone?

Users may purchase 15-minute increments of time at a rate of $3.50 per 15 minutes. The purchased time covers parking in any user-paid Commercial Loading Zone.
How will commercial vehicles pay for parking?
Users may pay through the ParkChicago mobile application or at the appropriate pay box. Users who pay at the pay box must select the red Commercial Loading Zone payment option and will receive a payment receipt to be displayed on the dashboard of the vehicle.
For drivers using the ParkChicago app, businesses may set up multiple individual accounts that can be tied to the same corporate credit card.
How are Commercial Loading Zones identified?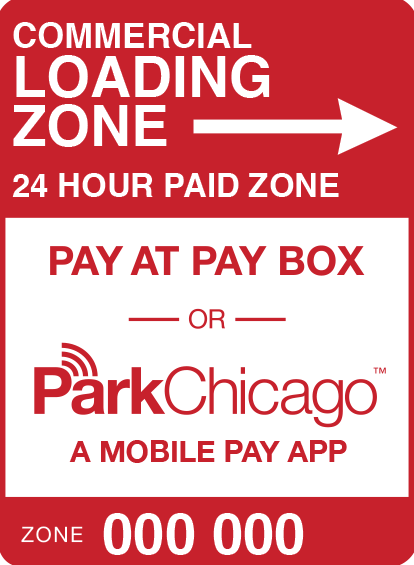 Commercial Loading Zones are identified by red Commercial Loading Zone end-limit signs. Drivers may park anywhere within this zone.
What types of vehicles are allowing to park in Commercial Loading Zones?
Commercial Loading Zones are to be used by "Commercial Vehicles," which the municipal code defines as vehicles that:
* Temporary, unaffixed identification (e.g. a sheet of paper or cardboard on the dashboard or rear window deck) is not a sufficient label for a commercial vehicle.
Can delivery vehicles park in "green" meter zones?
Yes, commercial vehicles may park in green metered areas if space is available, as long as the user pays the meter.
What are the fines/penalties for Commercial Loading Zones?
The fine for an unpaid/expired commercial vehicle meter is $140. The fine for a passenger vehicle parked, stopped, or standing in the zone is also $140.
Additionally, fines for double parking in certain areas in the Loop and Central Business District recently increased to $300.
Supporting Information Facts
Department:
People We Serve:
Programs & Initiatives: