Leadership
Lisa Morrison Butler
Commissioner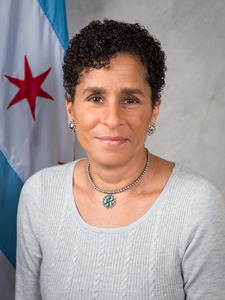 On Wednesday, July 29, 2015, the Chicago City Council approved Mayor Rahm Emanuel's appointment of Lisa Morrison Butler to serve as Chicago's Commissioner of the Department of Family and Support Services (DFSS).
Morrison Butler previously served as Executive Director for City Year Chicago, a post she held since 2004. City Year partners with at-risk schools to help students reach their full potential and graduate high school. During her tenure, she expanded the youth service corps from 60 to more than 200 members served annually and increased by ten-fold the number of at-risk Chicago Public Schools students served by City Year Chicago.
As Commissioner of DFSS, Morrison Butler is responsible for delivering social service programs and resources to more than 300,000 Chicago residents per year. This includes early learning opportunities for Chicago's children; summer employment opportunities and after-school programs for youth; supportive services, shelter and transitional housing for homeless families and individuals; safe accommodations and support services for victims of domestic violence; a wide array of life-enrichment opportunities and care services for Chicago's seniors; guidance and aid for our veterans; and job training and assistance for ex-offenders looking for a second chance to re-enter the workforce.
Morrison Butler holds a B.S. degree from Indiana University and pursued post-graduate studies at the J.L. Kellogg Graduate School of Management, Northwestern University and the University of Chicago. Prior to joining the city, she held senior positions in the telecommunications industry and also established a private strategic communications practice.