Chicago Fitness Plus Program
The Chicago Department of Family & Support Services (DFSS) and Alliance Rehab, Inc. have created an award winning fitness program that is not only fun, affordable and accessible, but one that concentrates on the key components to a healthy and independent lifestyle:endurance, strength, balance and flexibility. DFSS senior centers are equipped with senior friendly exercise equipment and staffed by experienced, Certified Senior FITness Professionals who lead group exercise classes and can customize training programs for seniors based on their own individual goals.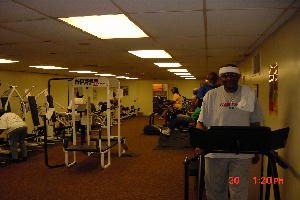 The U.S. Surgeon General's office recently released a report on Physical Activity and Health.
Two of its major findings were:
People who are usually inactive can improve their health and well-being by becoming even moderately active on a regular basis
Greater health benefits are achieved by increasing the amount (duration, frequency, or intensity) of physical activity
The Surgeon General's report highlighted the major benefits from exercise including:
Reduced risk of developing diabetes, high blood pressure, and colon cancer
Assistance to those who have high blood pressure, arthritis, or weight problems
Promotion of psychological well-being
CDFSS invites all Chicago seniors to join us by participating in fitness activities:
Take a free Comprehensive Fitness and Strength Training Classes which are offered twice a week at 48 locations throughout the City.
Use state-of-the-art Fitness Equipment (such as treadmills, stationary bikes, and circuit trainers) located at our Regional and Satellite Centers throughout the City, with free Personal Trainer consultations.
Train to participate in special fitness events, including the Senior's Active for Life Day in March, the National Senior Fitness Day Shape Walk in May, Senior Games in the fall and Urban Hikers events throughout the year.
To learn about class schedules and the location of the site nearest you, call: 312.744.4016.
Supporting Information Facts
Department:
People We Serve:
Programs & Initiatives:
Additional Information