The City of Chicago updated its Chicago River Design Guidelines in 2019, building upon the successful implementation of the Chicago Riverwalk, the visions and feedback received from the River Edge Ideas Lab, as well as previous plans and guidelines. The technical updates were also informed by the U.S. Army Corps of Engineers Chicago District as part of a grant from the Planning Assistance to States Program.
The Chicago River Design Guidelines, adopted by Chicago Plan Commission in January 2019, outline how properties along the Chicago River should be developed and improved to create a more unified aesthetic, to enhance the natural environment, and to provide public access and recreational opportunities, while balancing the needs of active industrial uses critical to the City's economy.
All new development within 100' of Chicago waterfront triggers a mandatory Planned Development (see exceptions under Section 17-8-0509-A of the Chicago Zoning Ordinance). Per Chicago's Zoning Ordinance, these planned development projects need to provide a minimum setback of 30' from the top of the river's bank, and will need to comply with the general goals set forth in any waterway design guidelines adopted by the Plan Commission.
Applicants with new waterfront Planned Development projects will need to complete and submit this checklist for the Planned Development's initial review as well as for the permit application review. Additionally, developers should review and incorporate the Chicago River Brand Standards and Guidelines, which outlines the visual branding system as well as expectations for signage design, identifying elements and aesthetics.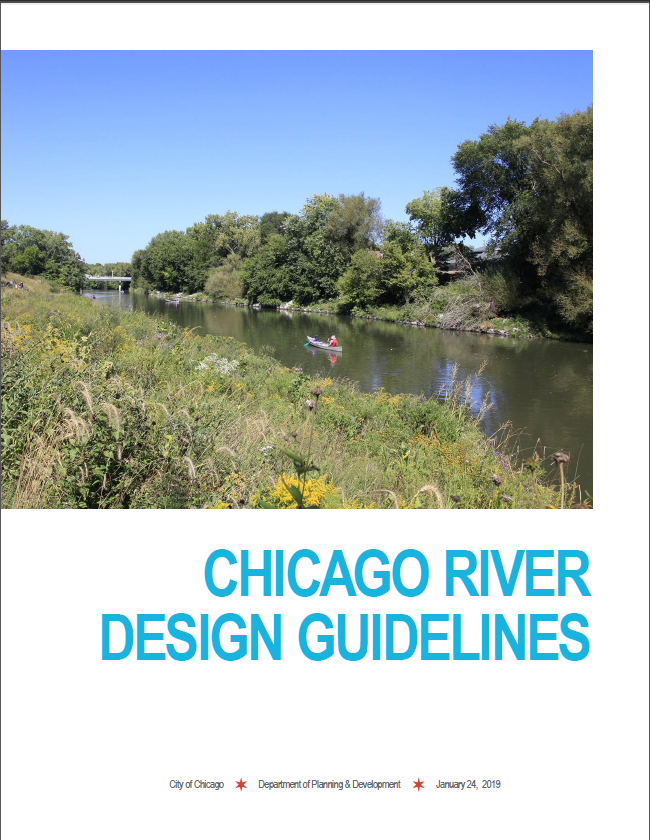 Download the design guidelines