While Chicago enjoys the diversity of four distinct seasons, our winters and summers can produce extreme temperatures. At times, weather conditions may pose a threat to health and safety. The Department of Family and Support Services works with other city departments to help residents through periods of severe weather.
Coordinate Warming and Cooling Centers across the city.
Monitor availability of overnight shelter beds.
Provide transportation to Warming and Cooling Centers and overnight shelters.
Conduct well-being checks on those at risk.
Expand outreach to homeless people on the street during times of extreme cold.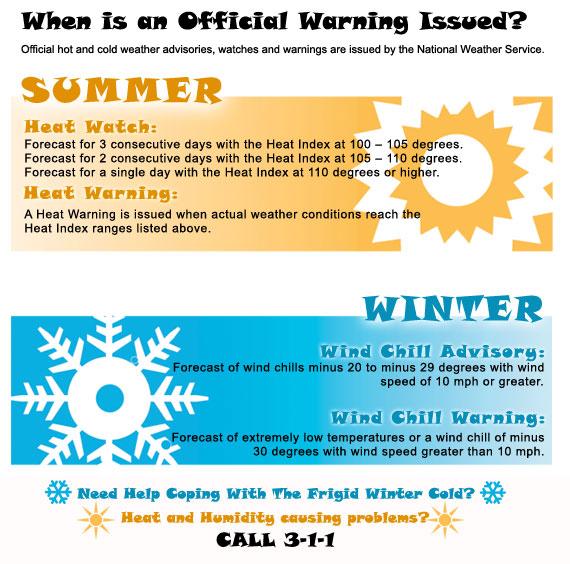 Extreme Weather Alert!
Register yourself, a relative or a friend today. Call 3 1 1 or visit a Community Service Center.
Register for the Extreme Weather Notification System and you will be notified when dangerous hot or cold weather conditions exist. Participants receive a recorded phone message informing them of official warnings and available city services.
Warming and Cooling Centers
Warming Centers are heated facilities where any resident can go during periods of extreme cold temperatures to stay warm and safe. Likewise, Cooling Centers offer residents air-conditioned refuge from oppressive summer heat. Agencies that volunteer their facilities as Warming and Cooling Centers, work to make visitors comfortable. While these centers are meant for short-term, daytime use, many are prepared to expand hours.
To Locate a Warming or Cooling Center, Call 3 1 1
The Department of Family and Support Services coordinates the operation of Cooling and Warming Centers. Beginning with its own Human Services Centers, FSS Chicago Park District, Chicago Public Schools and Chicago Public Libraries to make public buildings available. In times of excessive need, the City enlists the help of community organizations that can open their facilities to the public for respite from the weather.
Overnight Shelters
Chicago has approximately 100 overnight shelters that provide a bed and hot meal to those who are homeless. More than 5,000 beds are available at any given time. Requests for shelter can be made by calling 3-1-1.
Click here for a listing of Community Service Center Locations.
Service Facts
Department:
People We Serve:
Programs & Initiatives: