City of Chicago Congestion Pricing

The use of ride-hailing services – such as Uber, Lyft and Via – has grown by 271 percent since 2015 and continues to steadily increase. An analysis conducted by the City of Chicago has revealed:
Half of all trips citywide begin or end in the downtown area, and nearly a third of those trips both start and end in the downtown area.

Approximately 26 miles of road space is occupied in the downtown area by TNPs during a typical evening rush period.

77 percent of downtown area trips are requested as single trips.
Anyone that has traveled in the downtown area during rush periods would agree- congestion is a serious problem plaguing Chicago. Effective January 6, 2020, Chicago's landmark congestion policy will combat the plague of congestion, promote sustainable forms of transportation and support our essential public transit system, while making shared rides cheaper in the neighborhoods.
Overview
Starting January 6, 2020, the Ground Transportation Tax for all trips on Transportation Network Providers (Uber, Lyft or Via) will change as part of Chicago's first step to address congestion.

The total fees listed below include the new Ground Transportation Tax rate along with a $.02/TNP Trip Administrative Fee and a $.10/TNP trip Accessibility Fund Fee, which does not apply to trips on Wheelchair Accessible Vehicles (WAVs).
| | | |
| --- | --- | --- |
| SINGLE TNP TRIPS | NEW: Trip without Downtown Zone Surcharge* | NEW: Trip with Downtown Zone Surcharge* |
| Single Trip | $1.25 | $3.00 |
| Single Trip starts or ends in Special Zone (Airports, Navy Pier, McCormick Place) | $6.25 | $8.00 |
| WAV Trip (the $0.10/TNP Trip Accessibility Fund Fee does not apply) | $0.55 | $0.55 |
| | | |
| --- | --- | --- |
| SHARED TNP TRIPS | NEW: Trip without Downtown Zone Surcharge* | NEW: Trip with Downtown Zone Surcharge* |
| Shared Trip | $0.65 | $1.25 |
| Single Trip starts or ends in Special Zone (Airports, Navy Pier, McCormick Place) | $5.65 | $6.25 |
| WAV Trip (the $0.10/TNP Trip Accessibility Fund Fee does not apply) | $0.55 | $0.55 |
*The Downtown Zone Surcharge applies to any trip that starts or ends within the designated Downtown Zone Area during peak times, weekdays (M-F) between 6AM and 10PM
The Downtown Zone Area: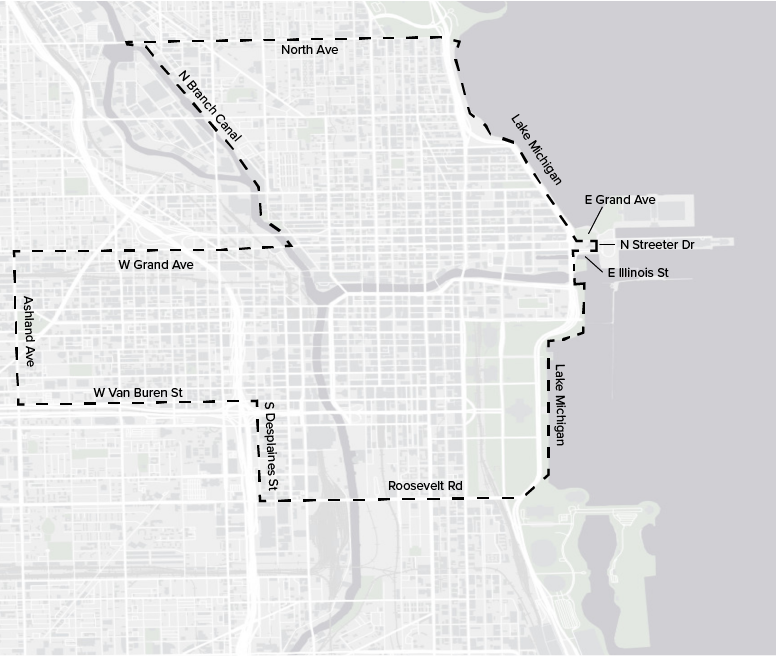 Supporting Information Facts
Department:
Programs & Initiatives: