License Clock - Percent of Licenses Issued
August 2019


Percent of Licenses Issued Within 1 Day of Payment
Many of our standard licenses, including most general retail, dry cleaners, home-based businesses, and pharmaceutical representatives, are issued within one day of payment. We are committed to issuing licenses that don't require an inspection as quickly as possible.
License Types Issued Within 1 Day:
100% of Pop-Up User Licenses
100% of Limited Business Licenses
85.7% of Regulated Business Licenses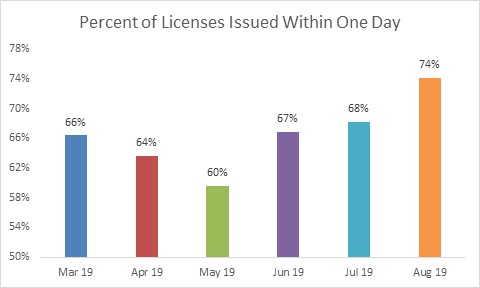 Percent of Licenses Issued Within 30 Days of Payment

Licenses that require multiple inspections and/or background checks, such as retail food, liquor, and child day care centers, will necessarily take longer than 1 day to issue. We are committed to reducing the time to issue all types of licenses.