Landmarks Commission Honors Chicago's Top Preservation Projects
June 19, 2015
312.744.9267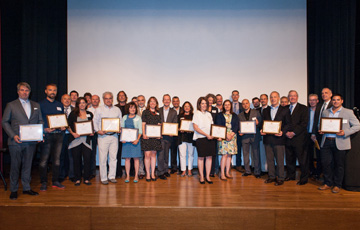 2015 Preservation Excellence award-winners pose with their awards at the Chicago Cultural Center Friday, June 19.
A dozen outstanding historic preservation projects across Chicago were honored today with the Commission on Chicago Landmarks' 2015 "Preservation Excellence" awards, which recognize extraordinary improvements to Chicago's landmark structures.
"Through their individual projects, the winners are helping to preserve Chicago's historic legacy for generations to come," said Commission Chairman Rafael Leon. "Their efforts and investments demonstrate a remarkable commitment to the City, its buildings, and its neighborhoods."
Distributed for the 16th year, the awards are given to the top projects reviewed in in the last 12 months by the Landmark Commission's Permit Review Committee. All the winners are designated Chicago landmarks, properties with landmark districts, or are helping to support Chicago's architectural history.
The 2015 winning projects include the rehabilitation and adaptive reuse of two downtown office buildings, a Wicker Park church, a Near North Side firehouse, a South Loop automobile showroom, and a Lake View police station; the rehabilitation of the first Loop skyscraper to be built after the Great Depression; the rehabilitation of single-family homes in the Gold Coast, Kenwood and Lincoln Park; and the new construction of a private residence in Ukrainian Village.
This year's John Baird Award for Stewardship in Historic Preservation was awarded to the National Parks Conservation Agency and Chicago Neighborhood Initiatives, which helped secure the declaration of the Pullman Historic District as a National Monument. The organizations were recognized for their work coordinating a coalition of preservationists, local residents, organizations and legislative leaders to support Pullman's establishment as a National Monument within the National Park System. The designation was announced in February 2015 at a special ceremony attended by President Barack Obama and Mayor Rahm Emanuel.
Fifty three Preservation Excellence awards have been distributed under Mayor Emanuel. Over that time, 41 structures have been designated as official landmarks, making them eligible for future awards from the Commission.
Information about the individual projects is available below.


Pullman National Monument

Steger Building

Old Dearborn Bank Building

1338 N. Damen Ave. (Wicker Park District)

Inland Steel Building
Former Engine Co. 42 Firehouse

2337 S. Michigan Ave. (Motor Row District)

Former 42nd Precinct/Town Hall Police Station

Augustus Warner House

4921 S. Dorchester Ave. (Kenwood District)

2413-17 N. Orchard St. (Mid-North District)

2018 W. Walton St. (Ukrainian Village District)
# # #