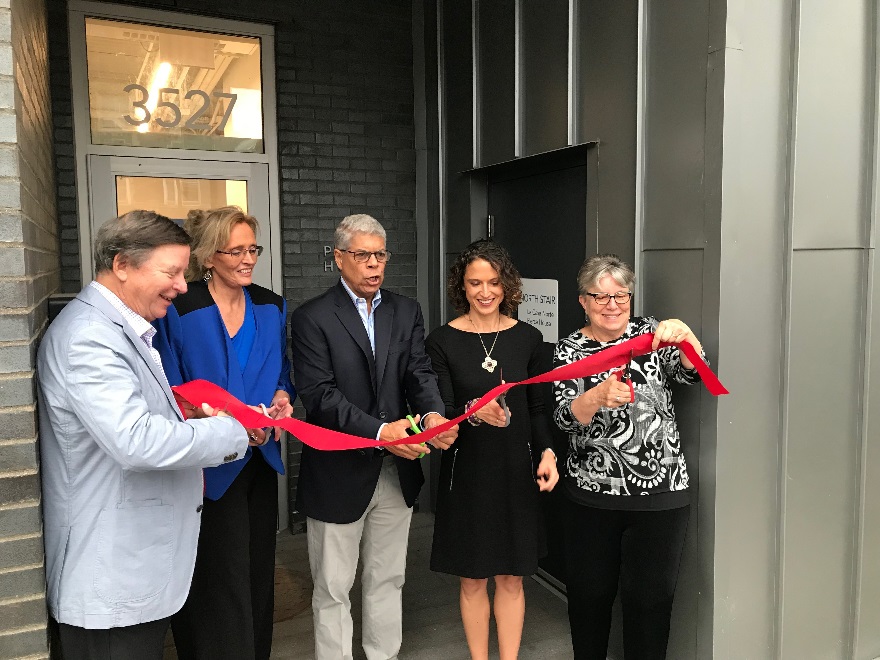 Chicago Department of Housing (DOH) Commissioner Marisa Novara today joined La Casa Norte, Chicago Housing Authority (CHA) officials, elected officials and community members to cut the ribbon at Pierce House, the last step in a seven-year journey to bring 25 units of affordable housing, a food pantry, a health clinic and other wraparound services to the Humboldt Park neighborhood for youth experiencing the challenges of homelessness.
The $20 million, five-story facility at 3527-3533 W. North Avenue was funded by private donations and a collaboration of several Chicago government entities.
"We couldn't have done it without the support of all the agencies," said Jessica Rodriguez, Director of Development for La Casa Norte. "This was a great partnership and execution of Chicago's plan to end homelessness," Rodriguez continued. "The entire city should feel proud."
The 25 studio, one and two-bedroom rental apartments will go to youth (18 – 24) and youth-headed families. The first tenants are expected to move into the newly constructed modern building featuring big windows and bright colors within the next two weeks.
La Casa Norte is a nonprofit organization that serves youth and families confronting homelessness through access to stable housing and comprehensive services to transform lives and communities. La Casa Norte has served youth in the Humboldt Park community and from across the city since 2002.
"We've definitely seen a rise in youth homelessness," Rodriguez said. "A lot of the youth are escaping an unsafe home. We've also seen a lot of youth who identify as LGBTQ and are not accepted at home. Nationally, about 40 percent of youth who are homeless identify as LGBTQ."
The development features many amenities for tenants, including on-site health care and counseling in the newly opened Howard Brown Health Center, a federally funded health center located on the ground floor. The first and second floors also serve as administrative offices and a drop-in youth center. The building also features a nutrition center with a food pantry and teaching kitchen, and there will be free classes in employment readiness and life skills.
"Pierce House represents the impact that public-private interagency collaborations have when focused on a unifying goal to improve lives," said Commissioner Novara. "Pierce House is not simply a place to live; it inspires, sparks hope, and helps every tenant change the trajectory of their life. It is a home."
The apartments are supported by CHA project-based vouchers and will be leased to individuals and families from the CHA waiting list and the Chicago's Coordinated Entry System.
"We are pleased to join our partners to dedicate this development and know that we all share the common goal of providing permanent housing and supportive services for some of the most vulnerable residents," said Cary Steinbuck, Deputy Chief of Property Assistance and Acquisition for CHA. "For years, La Casa Norte has been at the forefront of helping Chicago youth who are experiencing homelessness by offering them a safe haven. Pierce House will continue this important work and be able to reach even more people in need."
The City of Chicago provided more than $7.7 million in cash grants and Donations Tax Credits to the project. Chicago's Department of Family and Support Services assisted with funding for wraparound support services for residents.
"La Casa Norte dreams of a world where all people have dignity, communities thrive, and everyone belongs," said Vicki Hadaway, Interim Executive Director La Casa Norte. "La Casa Norte's vision to end poverty and homelessness for this generation and the next, is now a closer reality."
The Pierce House ribbon-cutting today was the third ribbon cutting or groundbreaking event celebrating new affordable housing developments Commissioner Novara has attended in September. Last week, Commissioner Novara was on-site for the grand opening of Independence Apartments, a $33.3 million mixed-use Chicago Housing Authority/Chicago Public Library development in the Irving Park neighborhood. Independence Apartments features 30 CHA apartments, 14 affordable units, and a new Chicago Public Library on-site. On September 10, Commissioner Novara was the keynote at the groundbreaking for a 38-unit public-private partnership for Sarah's Circle, a non-profit for women experiencing the danger and despair of chronic homelessness.
"It's been a great month," she said.
The Department of Housing ensures Chicago's housing resources and policies address the needs of residents of all income levels. DOH programs and initiatives are designed to equitably support renters, homebuyers and owners, and the landlords and the developers that provide affordable housing on behalf of community residents. Department initiatives also serve income-eligible homeowners needing furnace, roof and porch repairs, and senior needing accessibility improvements.
# # #