Vaccine Distribution Phases
Phase 1B Information
On February 10, Governor Pritzker announced expanding phase 1b to those with underlying conditions. While we are making progress every day with vaccinating people in 1a and 1b, at this time
we are not being supplied enough doses to expand phase 1b to include those with underlying conditions.
We will monitor the situation and continue to work to vaccinate as many Chicagoans as possible.
Read details on the press release
and
learn more about Chicago's vaccination phases.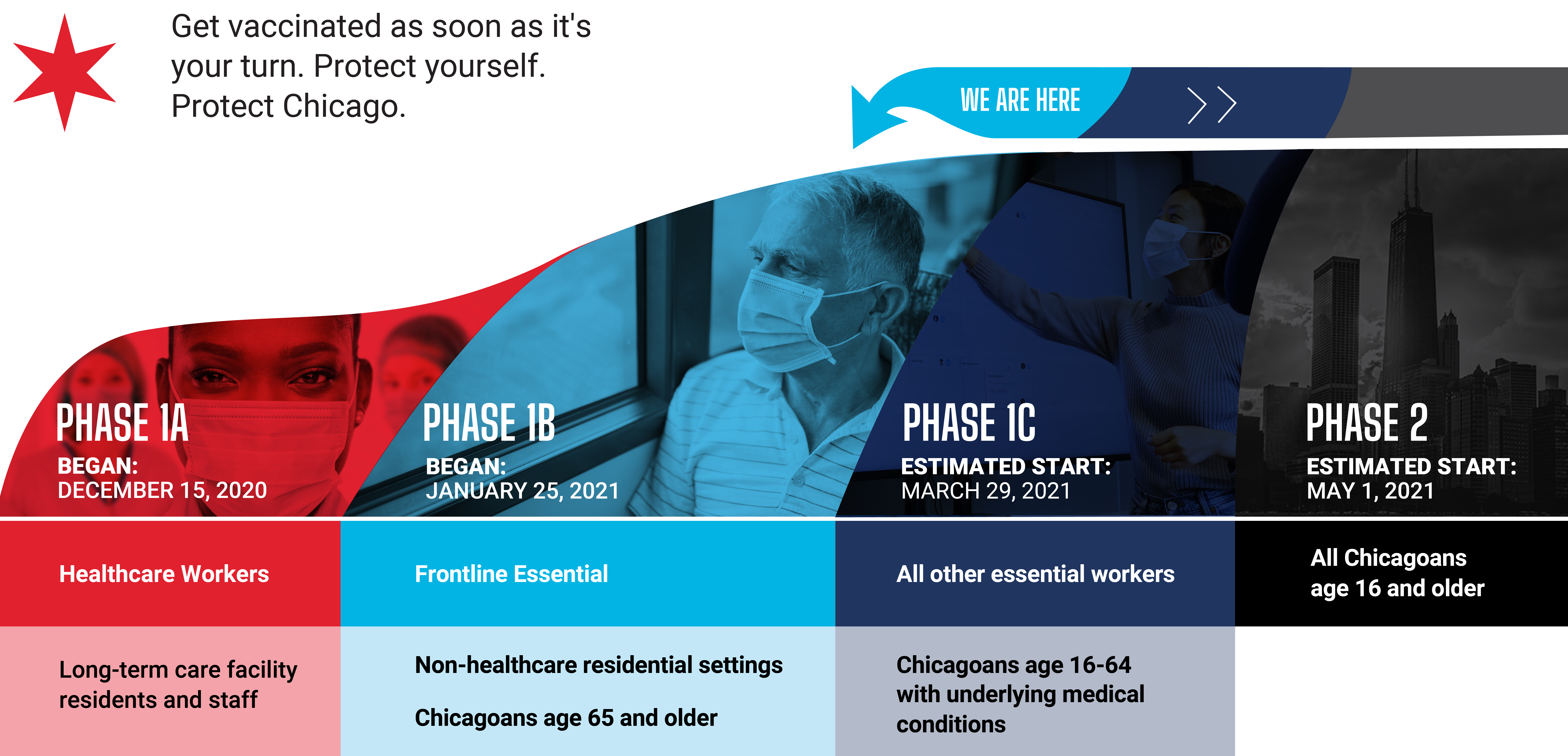 COVID-19 Vaccine Phases and Planning in Chicago
There will be a phased roll-out of the COVID-19 vaccine in Chicago with a very limited supply at the beginning, so certain groups will be prioritized. Everyone is encouraged to get vaccinated as soon as it's their turn. Supplies will increase over time and all adults will be able to get vaccinated later in 2021. Once a vaccination phase begins, people in that phase are eligible to receive the COVID-19 vaccine indefinitely. Tentative dates are dependent on vaccine supply.
*As vaccine is authorized for younger children, they will be added to the plan.
Definitions for Phase 1B groups
| | | |
| --- | --- | --- |
| CATEGORIES | CITY OF CHICAGO DEFINITION | CHICAGO ESTIMATE* |
| People 65 years of age and older | People 65 years of age and older; where possible, prioritizing Chicagoans 75 years and older and Chicagoans age 65-74 with underlying medical conditions | 363,000 |
| Non-healthcare residential settings | Homeless shelters, women's shelters, adult day care programs, correctional settings (jail officers, juvenile facility staff, workers providing in-person support, detainees), and other non-healthcare residential settings that have experienced outbreaks (e.g. convents) | 21,000 |
| First Responders | Fire, law enforcement, 911 workers, security personnel, school officers | 42,000 |
| Grocery Store Workers | Baggers, cashiers, stockers, pick-up, customer service, those working in feeding or at food pantries | 17,000​ |
| Education | Teachers, principals, student support, and student aides at pre-K-12 schools, day care staff | 142,500 |
| Public Transit Workers | Bus drivers, train conductors, flight crews, taxi drivers and ride sharing services (workers that have worked an average of at least 20 hours per week for the last three months), and all persons working for local transit agencies unable to work from home | 60,000 |
| Manufacturing | Industrial production of goods for distribution to retail, wholesale or other manufacturers | 53,000 |
| Food and Agriculture | Processing plants, veterinary health, livestock services, animal care, greenhouses and indoor locations where food is grown en masse | 10,000​ |
| Government | U.S. Postal Service Workers; City government leaders and City elected officials critical to maintain continuity of governmental operations and services | 5,300 |
| Caregivers | Parents, including foster parents, and other primary caregivers of medically fragile children or adults who live at home but require a level of ongoing medical care typically provided by a rehabilitation hospital or skilled nursing facility | ~35,000 |
*Sources: 2019 American Community Survey, Civilian employed population 16 years and older. Bureau of Labor and Statistics, Annual Averages 2019. Personal communication with industry and residential settings. Statistica, Home Care in the U.S.