Public Passenger Vehicles (PPV)
The City of Chicago's Department of Business Affairs and Consumer Protection (BACP) ensures Chicago's public passenger vehicles are safe, reliable and provide residents and visitors positive transportation options.
BACP oversees the licensing of Chicago's public chauffeurs and public vehicles including taxicabs, liveries, transportation network providers (ride-hail), charter and sight-seeing buses, pedicabs, low-speed electric PPVs, ambulances, water taxis and tour boats.
Effective May 1, 2023, BACP's Public Vehicle Licensing Operations Facility will offer two customer service options:
Walk-in (without appointment) service 8:30am to 11:30am on business days and
Scheduled appointment service throughout the day on business days
Offering license applicants and licensees options aligns with BACP's efforts to provide efficient customer service and minimize customer wait times.
All applicants, public vehicle and public chauffeur licensees may schedule an appointment for services if the 8:30am to 11:30am walk-in option time frame is not convenient for them.
After 11:30am, BACP Public Vehicle Facility will provide services by appointment only.
Walk-ins without scheduled appointments will not be accepted after 11:30 a.m.
Schedule a Public Vehicles Service Appointment
Public Passenger Vehicle Licensing and Inspection Facilities:
The following BACP public passenger vehicle licensing and inspection facilities are open to the public with capacity limits and social distancing protocols in place:
Public Vehicle Licensing Operations Facility, 2350 W. Ogden Avenue, 1st Floor: 8:30 am to 4:30 pm (Walk-ins without appointments will be serviced only between 8:30 am to 11:30 am)
Public Vehicle Inspection Facility, 2420 W. Pershing Road: 8:00 am to 4:00 pm
Save time and avoid a trip to Ogden! BACP encourages the processing of licenses and permits via email. Email BACP Public Vehicle at BACPPV@CITYOFCHICAGO.ORG to:
Submit public vehicle licensing applications and documents
Request to change public vehicle inspection dates
Sign up for public vehicle industry notices for the latest news and announcements
Send questions or comments on public passenger industry licensing and regulations
---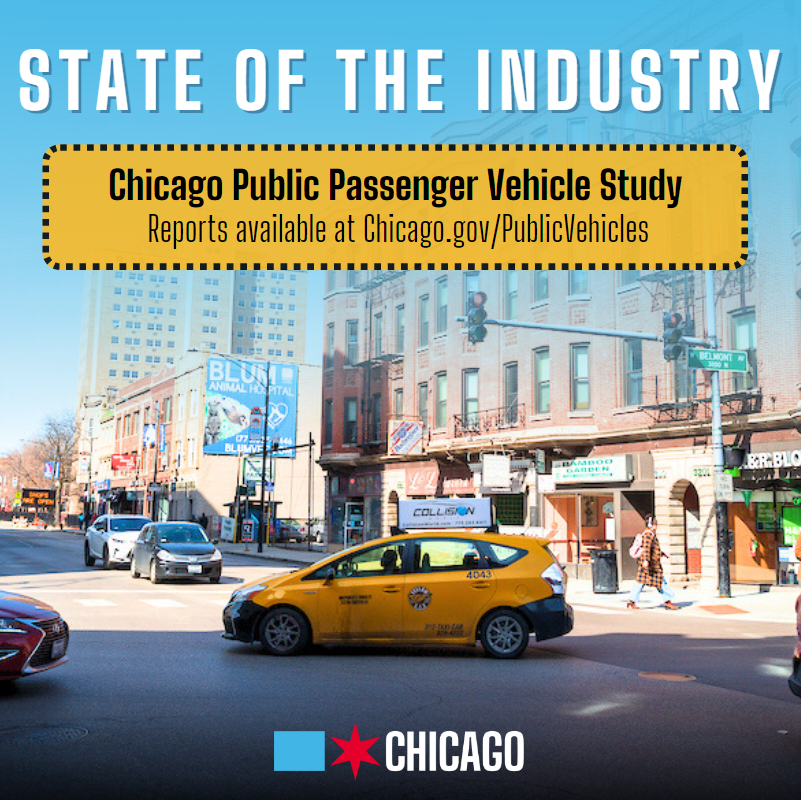 The Chicago Public Passenger Vehicle Study examines the taxi and ride-hail industry's effect on the local economy, workforce, and transportation options. Read the Chicago Public Passenger Vehicle Industry Study.
---
Department Main Office
Business Affairs and Consumer Protection