The Anti-Retaliation Ordinance prohibits employers from retaliating against employees for obeying an order issued by the Mayor, Governor, Chicago Department of Public Health, or healthcare provider having to do with COVID-19.
Employers are also prohibited from taking any adverse action against an employee for caring for someone who has been issued certain orders having to do with COVID-19.
File a Complaint by calling 311, using CHI 311, or by filling out a Complaint Form (Español).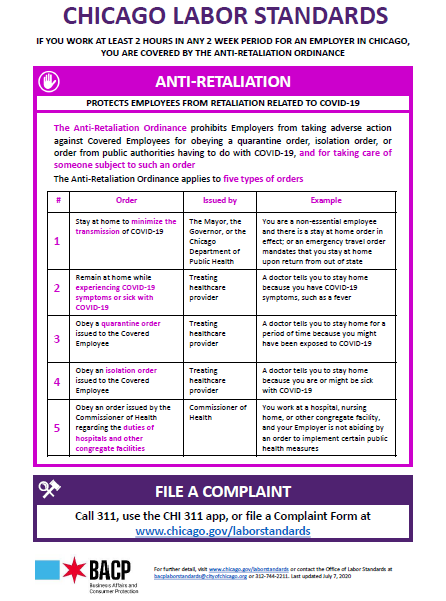 Download Notice (English | Español)
Additional Information:
Mailing List: If you wish to be added to our mailing list for Office of Labor Standards updates, announcements and notices, please email us at bacplaborstandards@cityofchicago.org
Minimum Wage Ordinance Information
Paid Sick Leave Ordinance Information
Fair Workweek Ordinance Information
Office of Labor Standards