Healthy Chicago 2.0 - Community Health Assessment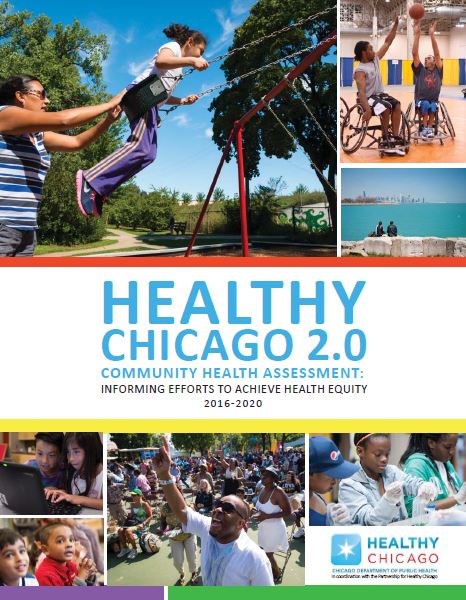 The priorities in Healthy Chicago 2.0 emerged from our community health assessment, conducted by CDPH in coordination with the Partnership for Healthy Chicago. We utilized the Mobilizing for Action through Planning and Partnerships model, which was developed by the Centers of Disease Control and Prevention (CDC) and the National Association for County and City Health Officials.
The Healthy Chicago 2.0 Assessment had many phases, including:
Conducted with the Partnership for Healthy Chicago (Partnership), a public-private partnership of stakeholders working to strengthen the public health system. The Partnership first convened in 1998 as part of the National Turning Point Demonstration Project through the W.K. Kellogg and Robert Wood Johnson Foundations. Members of the Partnership represent entities that contribute to the health of the city residents, including: governmental agencies; provider, hospital, health center associations; schools and academia; research and policy organizations; faith and business communities; and community and social service organizations. The Partnership for Healthy Chicago is co-chaired by the CDPH and one partner organization. CDPH staffs the Partnership.
The vision for Healthy Chicago 2.0 is "A city with strong communities and collaborative stakeholders, where all residents enjoy equitable access to resources, opportunities and environments that maximize their health and well-being."
Community Themes and Strengths: An analysis of community feedback on the strengths and areas for improvement in their community and Chicago. Data were collected through an online survey, focus groups and oral histories with marginalized populations, and community conversations. The CDPH Planning team in collaboration with the UIC School of Public Health completed this analysis. For the results of the Community Themes & Strengths Assessment click here.
Forces of Change: An analysis of forces and trends that will impact Chicagoans' health and the public health system. These data were collected from the Community Conversations, Partnership members, and other targeted stakeholder groups such as: CDPH management, violence prevention and substance abuse partners and EverThrive Illinois Chapter members. The CDPH Planning Team completed this analysis. For the assessment results click here.
Community Health Status: An analysis of community health data, including data on social determinants of health (education, income, demographics, housing, environment, etc). The CDPH Office of Epidemiology in partnership with the Partnership data committee completed this analysis. For the results of the Community Health Status Assessment click here.
Local Public Health System: An analysis of the capacity and functioning of the public health system, based on the Ten Essential Public Health Services. This assessment was completed by CDPH in partnership with over 70 public health stakeholders. For the assessment results click here.
The findings from the four assessments, along with the Healthy Chicago 2.0 vision, were presented at a Partnership meeting and five Community Conversations where participants identified overarching strategic issues. CDPH, Partnership members, the public, and subject matter experts ranked all the strategic issues, which resulted in the Priority Action Areas that need addressing to reach health equity and improve community health and wellness.