Dr. Julie Morita was appointed as commissioner of the Chicago Department of Public Health (CDPH) in early 2015. Under Dr. Morita's leadership, CDPH developed and launched Healthy Chicago 2.0, a four-year plan to assure healthy equity by addressing the social determinants of health. In addition, under her leadership, CDPH led efforts to pass several tobacco prevention initiatives including raising the age for purchasing tobacco products to 21 years.
Previously, Dr. Morita served as CDPH's Chief Medical Officer leading the city's response to the pandemic influenza outbreak where she developed a system to distribute more than one million doses of vaccine across the city as well as the city's efforts to prevent the introduction and spread of the Ebola virus. Dr. Morita has served as a member of the Institute of Medicines Committee on Community Based Solutions to Promote Health Equity, the Advisory Committee on Immunization Practices, the National Vaccine Advisory Committee, and the Illinois Chapter of American Academy of Pediatrics.
Prior to her time with CDPH, Dr. Morita served as an Epidemic Intelligence Service Officer with the CDC and worked in private practice. She is a graduate of the University of Illinois at Chicago Medical School.
---
Carolyn Lopez
President of the Chicago Board of Health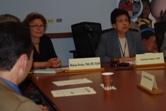 A native Chicagoan, Dr. Lopez completed her undergraduate work at Loyola University in Chicago and received he M.D. in 1978 from the University of Illinois Abraham Lincoln School of Medicine. She is a graduate of the Rush-Christ Family Practice Residency Program and has been Board Certified in family Medicine since 1981.
Dr. Lopez has extensive medical management experience in both the private and public sectors. Her past positions include serving as Medical Director of the Chicago Park District and Chief Medical Officer of Rush Prudential Health Plans. She most recently served as Chair of the Department of Family and Community Medicine at the John H. Stroger, Jr. Hospital of Cook County (the old Cook County Hospital). She has also been active in academic medicine, holding various positions as both an educator and as an assistant dean. She is currently a Professor in the Department of Family Medicine of Rush Medical College, Medical Director of Near North Health Service Corporation and is also President of the Chicago Board of Health.
Dr. Lopez has been very involved in medical organizations, among them the Illinois Academy of Family Physicians where she became the first woman and first Hispanic elected as President. She is also a past officer of the American Academy of Family Physicians (AAFP) and held various leadership positions there, including service as the first woman and Hispanic Vice-Speaker and later Speaker of the AAFP Congress of Delegates, the governing body of the AAFP. Dr. Lopez was also awarded fellowship in and later joined the Board of Governors of the Institute of Medicine of Chicago (IOMC). She is Past President of the IOMC and also serves on the Steering Committee for the State of Illinois All Kids program.
Dr. Lopez has received many awards including a resolution of commendation from the Cook County Board of Commissioners in 1999. She was recognized as a "local legend" by the American Medical Women's Association, as nominated by Congressman Rahm Emanuel. In 2004, she was named by Crain's Chicago Business as one of the 100 Most Influential Women in Chicago. During the same year Dr. Lopez was designated a "Hispanic Hero" by Chicago Fire and Major League Soccer.
Click here for more information about the Chicago Board of Health.