Air Pollution Control Permit
"Click on the picture below" for a step by step guide to apply for or renew your air pollution control permit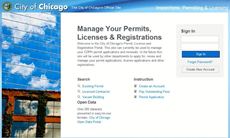 A permit is required to install, operate, erect, construct, reconstruct, alter or add a piece of regulated equipment or area as defined in the Chicago Municipal Code, Section 11-4-610. Regulated equipment or area means "any combustion equipment, pollution control device, process equipment, or process area." In general, this refers to equipment and areas that have a potential to emit any air contaminant into the atmosphere. Neither the size of the facility nor the amount of the air contaminant has any bearing on whether or not you need a permit.
If you are uncertain as to whether a permit is needed for the activity you wish to perform, read Frequently Asked Questions about Air Pollution Control Permit.
An Architectural Surface Cleaning Permit is also required for sandblasting, grinding, and chemical washing.
Please note, CDPH will no longer accept permit applications or payments by mail or walk-in at any location. All permits must be applied for online on the City of Chicago Permit Portal at https://ipi.cityofchicago.org/Profile/
If you have never used the website before, you will need to create an account, sign in and then choose Apply For New Permit.
Old Applications and Forms (for reference only)

A Guide to Obtaining Air Pollution Control Permits

Demolition/Renovation/Asbestos Project Notification Form
Form A: Air Pollution Control Permit Application for Regulated Equipment or Area (Equipment Summary)
Form B: Air Pollution Control Permit Application for Process Equipment or Area
Form C: Air Pollution Control Permit Application for Pollution Control Device
Form CB: Air Pollution Control Permit Application for for Compactor or Baler
Form DC: Air Pollution Control Permit Application for Dry Cleaning Machine
Form DM: Demolition Notice of Intent
Form EG: Air Pollution Control Permit Application for Emergency or Standby Generator
Form FB: Air Pollution Control Permit Application for Combustion Emissions Unit (Furnace or Boiler)
Form FP: Air Pollution Control Permit Application for for Food Preparation Unit
Form IN: Air Pollution Control Permit Application for Incinerator or Afterburner
Form LR: Quarterly Lead Emission Reporting
Form MVR: Air Pollution Control Permit Application for Spray Booth or Area in Motor Vehicle Repair Shop
Form SB: Air Pollution Control Permit Application for Spray Booth or Area
Form SC: Air Pollution Control Permit Application for Architectural Surface Cleaning
Form UPV: Air Pollution Control Permit Application for Unfired Pressure Vessel