Pharmaceuticals Drop-off Locations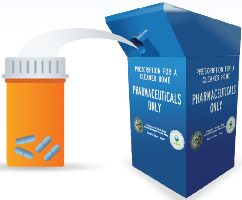 The Chicago Department of Public Health has partnered with the Chicago Police Department to provide you with a place for the safe and proper disposal of unused or expired prescription and over-the-counter medications (for households only).
You may take your pharmaceuticals to one of the following designated drop off locations 24 hours a day, 7 days a week. Look for the blue box in the lobby.
3rd District, 7040 S. Cottage Grove Avenue
4th District, 2255 E. 103rd Street
5th District, 727 E. 111th Street
6th District, 7808 S. Halsted Street
7th District, 1438 W. 63rd Street
8th District, 3420 W. 63rd Street
9th District, 3120 S. Halsted Street
10th District, 3315 W. Ogden Avenue
11th District, 3151 W. Harrison Street
12th District, 1412 S. Blue Island
Detective's Unit, 2452 W. Belmont Avenue
14th District, 2150 N. California Avenue
15th District, 5701 W. Madison Street
16th District, 5151 N. Milwaukee Avenue
17th District, 4650 N. Pulaski Road
18th District, 1160 N. Larrabee Avenue
19th District, 850 W. Addison Street
20th District, 5400 N. Lincoln Avenue
22nd District, 1900 W. Monterey Avenue
24th District, 6464 N. Clark Street
25th District, 5555 W. Grand Avenue
If you have any questions, please contact Terry Sheahan at 312.745.3133.