CDPH COVID-19 Update:  Cook County and Chicago Remain at Medium COVID-19 Community Level
December 30, 2022
CDPH has administered over a half-million booster shots, more Family Vaccination clinics opening
COVID-19 Joint Information Center media.cdph@cityofchicago.org
CHICAGO – Chicago and Cook County remain at the Medium COVID-19 Community Level according to the latest Community Level metrics released by the Centers for Disease Control and Prevention (CDC). Chicago could, however, reach the High Level with a post-holiday infection surge, and CDPH continues to urge everyone to get their booster shots and mask in crowded indoor spaces.
"While I'm pleased that Chicago remains in the Medium Level, we expect this could soon change, especially with many people attending more large gatherings over the next few days," said CDPH Commissioner Allison Arwady, M.D. "As Chicagoans gather to ring in the New Year this weekend, it's important we all stay on the defense against COVID-19 and the flu.
"Pleaes make sure you have had both your flu shot and your fall 2022 COVID booster," said Dr. Arwady. "Beyond that, if you are going to be in crowded indoor spaces this weekend, think about putting your mask on, knowing many viruses are circulating right now in Chicago--and if you're feeling sick, please stay home."
Those who host New Year's gatherings can do many things to reduce the risk of COVID-19 for revelers. Encourage people to test for COVID-19 before gathering, especially if there will be people who are older or immune-compromised attending. Improving ventilation can also help reduce virus particles and keep COVID-19 from spreading. This is as simple as cracking open a window, turning on a fan, or using air filters. With relatively mild winter weather this weekend, conditions will be good to improve ventilation in your home.
The CDC has tips for improving the ventilation in your home on their website.
Upcoming Vaccine Events
CDPH continues to urge all Chicagoans age 6 months and older to remain up to date on COVID-19 vaccinations, including the fall 2022 booster, and to get their annual flu shot. The flu can bring serious illness for younger people, older people, especially those who have not gotten a flu shot. The updated COVID booster vaccine is free for all, regardless of health insurance status.
The City continues to operate Protect Chicago At Home, its completely free program that will bring COVID-19 and flu vaccines right to any Chicagoan's home and vaccinate up to 10 people in a single appointment. CDPH has administered more than 22,000 COVID vaccinations through the At Home program.
COVID-19 vaccines, including primary doses and the new booster vaccines are available for anyone age 6 months and up through the At Home program. Chicagoans age 6 months and up can also receive a flu vaccine at home if at least one member of the household is receiving a COVID-19 vaccine. Appointments are available mornings, afternoons, evenings, weekdays, and weekends. Make an at-home appointment for your family at Chicago.gov/AtHome or by calling (312) 746-4835. 
Starting Saturday, January 7, CDPH will again be operating Family Vaccination Clinics at six City Colleges of Chicago sites throughout the City. The vaccination clinics will run every Saturday through February 11, offering flu shots, COVID-19 vaccines, and the updated bivalent booster to all eligible Chicagoans. Sites operate 9am-2pm:
Saturday, January 7 at Malcolm X College, 1900 W. Jackson Blvd.

Saturday, January 14 at Richard J. Daley College, 7500 S. Pulaski Rd.

Saturday, January 21 at Olive Harvey College, 10001 S. Woodlawn Ave.

Saturday, January 28, Wilbur Wright College, 4300 N. Narragansett Ave.

Saturday, February 4, Kennedy King College, 6301 S. Halsted St.

Saturday, February 11, Truman College, 1145 W Wilson Ave.
Find additional vaccination events in your neighborhood at Chicago.gov/vaxcalendar or call the City's COVID-19 Hotline at (312) 746-4835.
COVID-19 Bivalent Booster Updates
As of December 28, 18.8 percent of all Chicagoans age 5 and up have received the updated COVID booster vaccine, compared to 15.1 percent of all Americans. One in five Chicago adults 18 and older have received a bivalent booster. As of December 28, more than 507,000 doses of the updated booster have been administered to Chicagoans.
This new, updated vaccine, known as the bivalent booster, is designed to better protect against Omicron subvariants as well as original strains of the virus. The bivalent booster generates a stronger immune response against current and future Omicron subvariants.
COVID-19 By the Numbers 
 The CDC determines COVID-19 Community Levels as Low, Medium, or High, based on the number of new local COVID-19 cases, regional COVID-19 hospital admissions, and COVID-19 hospital capacity in the prior week. The Levels were developed to help communities decide what prevention steps to take based on the latest local COVID-19 data.  
CDPH also continues to track and report COVID-19 hospital burden specifically for Chicago hospitals every day on its dashboard and uses this local hospital data to make further mitigation decisions. Visit chi.gov/coviddash for the Chicago COVID-19 daily data dashboard. 
Metrics

New Lab-Confirmed COVID-19 Cases (per 100,000 people in last 7 days)

New COVID-19 admissions per 100,000 population (7-day total)

Proportion of staffed inpatient beds occupied by COVID-19 patients (7-day average)

[GOAL is <200]
[GOAL is <10]
[GOAL is <10%]
City of Chicago
139
5.6
5.1%
Cook County (including City of Chicago)
127
12.9
5.8%
Cook County metrics are calculated by the CDC and posted on the CDC Community Levels website (data as of 12/29/2022).
COVID-19 Community Levels in Illinois and the U.S. by County 
In total, 5 of Illinois' 102 counties are at the High Community Level (compared to 33 last week), 49 are Medium (55 last week), and 48 are Low (14 last week). Nationwide, in the past week there has been a small drop – from approximately 51 percent to just over 49 percent – in the number of U.S. counties at Medium or High Community Levels.
Travelers should be aware of whether areas they are visiting are Low, Medium, or High risk for COVID-19 by checking the CDC's map, and take proper precautions, which should include reviewing CDPH's travel guidance.  
Community Level
Number of Counties
Percent of Counties
% Change from Prior Week
High

289
(343 last week)

9%

-1.7%
Medium

1,296
(1,303 last week)

40 %
-0.2%
Low

1,634
(1,572 last week)

51%
1.9%
For additional COVID-19 information, visit Chicago.gov/COVID.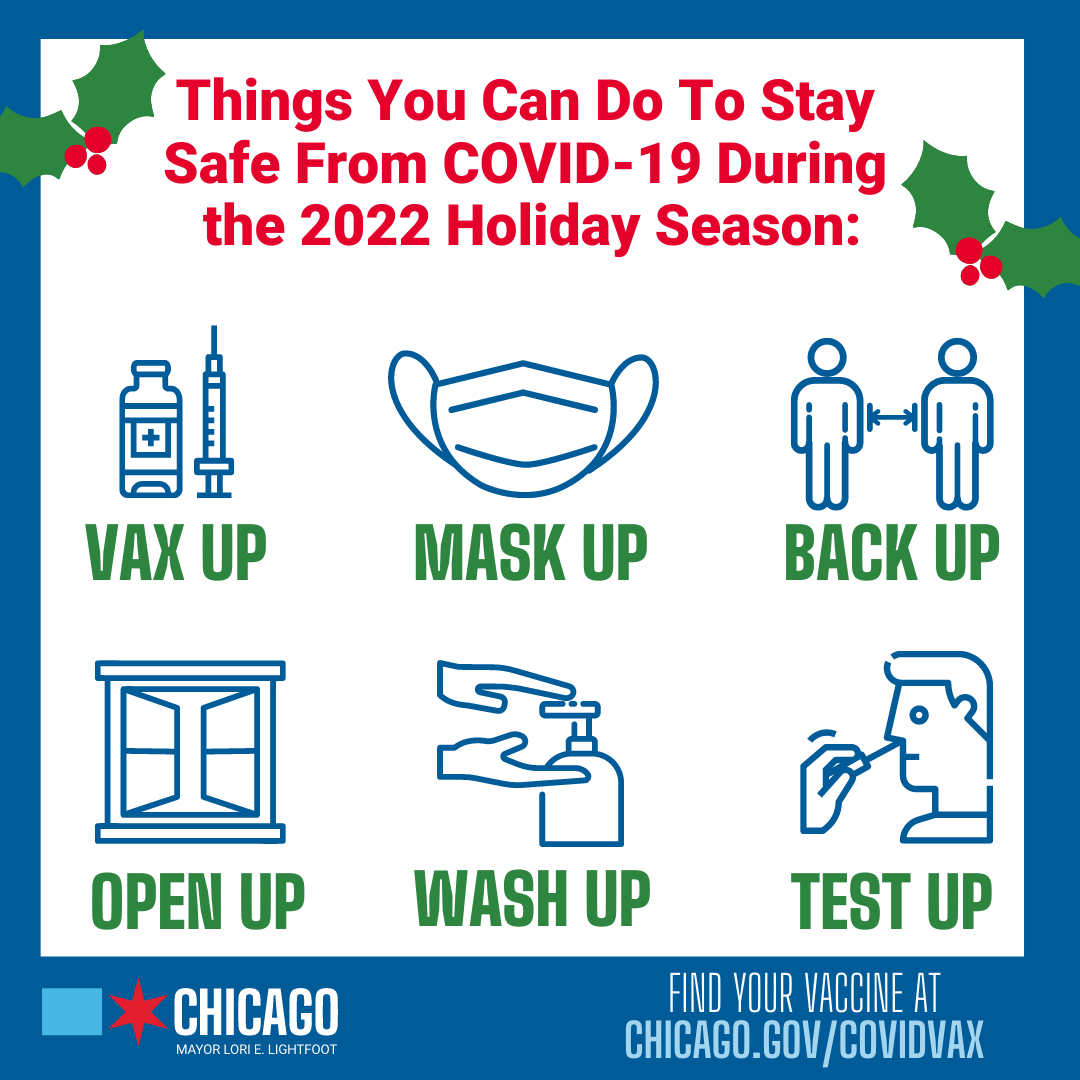 ###