COVID-19 Cases Rise Slightly but City Remains at Low Risk and in Good Control of the Virus One Month After Lifting Vax, Mask Requirements
March 30, 2022
CDPH also announces changes to vaccination, incentive programs
COVID-19 Joint Information Center media.coronavirus@cityofchicago.org
Chicago saw a slight increase in new COVID-19 cases and test positivity over the past week but both are well below previous pandemic surges and the city remains in good control of the outbreak one month after lifting mask and vaccine requirements, the Chicago Department of Public Health (CDPH) said today. Over the last week, an average of 223 Chicagoans each day had a positive laboratory test for COVID-19. Test positivity also rose slightly from last week and is at 1.3% on an average of 20,016 daily test results.
Chicago, Cook County, and all counties in Illinois remain in low risk according to the Centers for Disease Control's (CDC) COVID-19 Community Levels. Levels can be low, medium, or high and are determined by looking at hospital beds being used by COVID-19 patients, new COVID-19 hospital admissions, and the total number of new COVID-19 cases in an area. This means COVID-19 is currently having a limited impact on our healthcare system and there are low levels of severe illness. Chicago is averaging 10 COVID-19 hospitalizations and less than 1 COVID-19 death per day – nearly the lowest averages we have seen throughout the entire pandemic.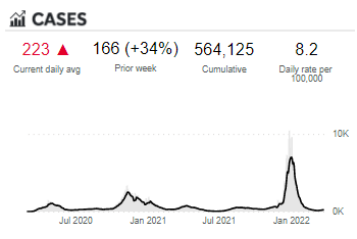 Chicago has seen a slight uptick in cases but is well
below the pandemic peaks
"I am pleased that one month after lifting the universal mask mandate and vaccine requirement for certain indoor public settings here in Chicago, the city remains in good control. It is not surprising to see a slight increase in cases as behavior changes, but we continue to monitor this closely," said CDPH Commissioner Allison Arwady, M.D. "If the increase in cases does concern people, the most important thing you can do to protect yourself from severe outcomes remains the same: ensure you are up to date with your COVID-19 vaccinations."
It is estimated that 50.4% of cases in the Midwest region are Omicron's subvariant BA.2, according to data from the CDC. CDPH will continue to monitor this closely.
Citywide, 82.3 percent of residents age 5 and up have received at least one dose of the COVID-19 vaccine. This includes 84.9 percent of Asian residents, 75.8 percent of white residents, 75.7 percent of Latinx residents, and 61.7 percent of Black residents. All data is available on the City's COVID-19 dashboard: Chi.gov/COVIDdash.
The CDC announced this week it has expanded eligibility to receive a second booster dose to people over 50 and certain immunocompromised individuals – populations at higher risk for severe disease, hospitalization, and death from COVID-19. People should have a conversation with their healthcare provider about this and can get more information on the CDC website about eligibility.
In addition to vaccinations and boosters being widely available at health care providers and pharmacies across the city, CDPH continues to host mobile vaccination events in partnership with community-based organizations throughout the week. A full calendar of events can be found at Chicago.gov/VaxCalendar. Events at Chicago Public School locations are included on the calendar as well.
All Chicagoans age 5 and up continue to be eligible for vaccination in their own home free of charge through Chicago's unique Protect Chicago At Home program, regardless of insurance status. Appointments in April are available four days a week Saturday through Tuesday, from 8:00 a.m. to 6:30 p.m. Booster doses are also available. Up to 10 people can be vaccinated in a single visit per household. Call (312) 746-4835 to make an appointment or register at Chicago.gov/AtHome.
Also beginning in April, CDPH will make changes to its incentive program, which has offered $50 Visa gift cards for each 1st or 2nd dose of vaccine. Through March 31, everyone who is vaccinated at CDPH mobile vaccination events, through Protect Chicago At Home, or at CPS vaccination clinics, will receive gift cards.
Starting April 1, the incentive program will focus on a hyperlocal strategy to improve vaccination rates for residents in zip codes with less than 70 percent of residents fully vaccinated. Beginning April 1, only patients who live in the following eligible zip codes will receive gift cards: 60608, 60612, 60617, 60619, 60620, 60621, 60624, 60628, 60633, 60636, 60637, 60644, 60649, 60651, 60653. Incentives will be delivered by mail, not at the time of the appointment. Gift cards are not offered for booster doses.
In addition, last week, CDPH also adjusted its Travel Advisory to align with new county-level guidance from the CDC and will provide its travel guidance every Friday going forward in order to align with the CDC's COVID-19 Community Levels tool.
The CDC's COVID-19 Community Levels tool is designed to help communities decide what prevention steps to take based on the latest data. CDC releases new COVID-19 Community Level data every Friday. The CDC's website allows users to search for counties to identify the current risk level. As of March 25, 8.9 percent (286) of the 3,220 counties in the U.S. and Puerto Rico had COVID-19 levels that are "medium" to "high." CDPH advises all travelers to check the CDC's map to determine the risk level and precautions to take.
If the areas are medium risk (yellow), consider wearing a mask in indoor public places. 
If the areas are high risk (orange):

Wear a mask in indoor public places. 
Travelers who are age 5 or older who are not up to date with their COVID-19 vaccines are advised to avoid travel to high-risk (orange) counties. 
Unvaccinated Chicagoans age 5 or older who travel to high-risk (orange) counties, upon returning to Chicago are advised to follow CDC guidance:

Stay home and quarantine for 5 days after travel
Take a COVID test 3-5 days after return – if it is positive, stay home and follow CDC guidance
All COVID-19 vaccines are offered at no cost, no insurance and no government ID required. For more information about COVID-19 vaccines in Chicago, visit Chicago.gov/COVIDvax.
News Release Facts
Department: